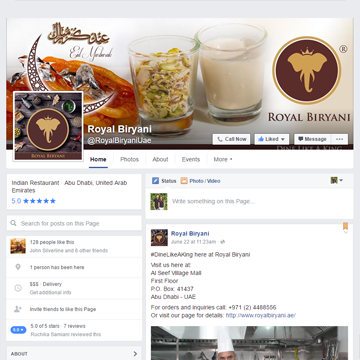 The Biryani was inspired by the Mughal Empire Shah Jahan's Wife, Queen Mumtaz Mahal. A dish that is rich in flavor, rich in spices and rich in history, there is no wonder why it's the cuisine of kings.
&nbsp
&nbspHis Era will be our precedent. The luxurious yet understated time Where beauty was in not only in adornment but also in forms.
&nbsp
&nbspThe Fine Arts like architecture, painting and music also flourished during this time.
&nbsp
&nbspROYAL BIRYANI, launched in June 2016, is located in the Khalifa Park Area, in Al Seef Village Mall, Abu Dhabi. With a dining space to cater for over 60 guests, we offer a contemporary approach to Indian cuisine, delivered in opulent ambience to enjoy traditional delicacies and guarantee a taste of veracity in every bite.
&nbsp
&nbspOur extensive menu offers India&nbsps richness & diversity across a range of cuisines, with a selection of traditional dishes from across the country and Indian inspired beverages. We take you on a culinary experience of the senses, by connecting tastes in a variety of delicate Indian dishes, and offering some of the best Biryani in Abu Dhabi.
&nbsp
&nbspThe interiors reflect the grandeur and royalty of India, with elegant furnishing resembling the skin and texture of the elephant, and the walls and lighting emulating the feel of ancient forts of rich India. Royal Biryani provides a flawless setting for all dining occasions.
&nbsp
&nbspCome and explore a new level of dining experience with Royal Biryani Abu Dhabi, where we ensure that our customers &nbspDine Like a King&nbsp.