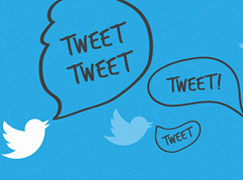 Why not to utilize the micro blogging Site twitter effectively to increase leads for your business?
Are you visible on one of the most popular social media networking site of the world? We are talking about the shortest and cutest way of sharing, communicating, promoting and selling ideas and concepts via Micro-blogging site-Twitter.
&nbsp
&nbspTwitter is becoming a cup of every one&nbsps tea today with the advancement in internet world. In surveys it was found that tweeting every day is just like reading newspaper, or having breakfast which you hardly afford to skip.
&nbsp
&nbspWell, the successful social networking platform is not meant to personal uses only. It is widely accepted as one of the best applications to promote the online business. It has its outstanding reach which makes it the most instant way of facilitating two way communications between the audience and the business owner.
&nbsp
&nbspHow to make twitter the best tool to enhance your online presence?
&nbsp
&nbspThe first impression is the last impression and it works great with your twitter account as well. Your profile gives you the solid recognition if you have carefully followed certain points like:
&nbsp
&nbsp1. Make your logo as your profile picture.
&nbsp2. Make your brand name as your Twitter handle and your Twitter username.
&nbsp3. Make your brand name in your Twitter bio, and add a link to a white paper in your bio.
&nbsp4. Add your website's URL to your profile.
&nbsp5. Make your brand name as your hash tag (#) and include it in all Tweets.
&nbsp6. Customize the settings of your twitter according to your needs. Like you can set the correct location so that your audience can find you. Share your business websites and blogs to the account so that it better gives a perspective of your work to the audience.
&nbsp7. Twitter allows you the feature to find and collaborate with like people like your competitors, your alliances, vendors and sponsors. This is achieved on twitter by following people related to your field. It thus gives you a community where you can get the filtered information related to your business line.