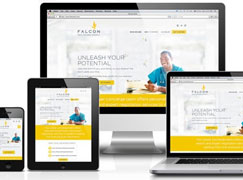 A Good Website Design can Increase the Visitors Turning into Buyers at you Product Homepage
With everyone is busy today in one&nbsps own tablet, Laptop, Mobile phone and many other gizmos, there is hardly any time left out with them to devote to visiting offline stores for day to day shopping. What is needed on day today shopping? Clothing, footwear, accessories, eatables, computer and office accessories, handbags, and even online music, movies, books and services like pest management, home d&nbspcor etc. Then why not to prefer online shopping which is much convenient and cost effective? You have the flexibility to get the delivery of the product wherever you want along with payment on delivery.
&nbsp
&nbspLeading metropolitan population prefers utilizing their time instead of spending their time, on purchasing items of their need. Putting aside topics such as marketing and budgeting there is another big topic worthy of discussion: actually designing the website. The designing market is busy finding better UI designs for e-commerce websites to make them more user-friendly and cost effective so as to expand everyday emerging small scale business which are the foundation pillars of the future market of e-commerce.
&nbsp
&nbspBut what else could be added to an Average Joe design to make it a Spectacular Joe design? Unfortunately Joe wasn&nbspt available for questioning but I do have my own list of trends that are perfect for anyone designing or launching a new e-commerce website. Now what is the aim of any website designer or developer? It is simply to make your business prospects which can be converted into customers or the buyers. This objective requires two main processes. One is through pre-click method and other is after the visitors have clicked in to the particular link on your website.
&nbsp
&nbspPre-click is all the efforts and campaigns to get relevant visitors to your website, whether it is from ads or organic search engine queries while post-click refers to getting those users on your website to make a certain action.