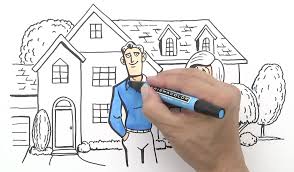 Present the most important messages to your audience in the form of white board animation videos
Every day you notice a changed doodle on the Google Homepage. The short and simple doodle succeeds in explaining the viewers the real message behind each doodle. Whiteboard animation is an evolving trend in the digital market to be utilized as a successful tool of sharing your thoughts and ideas with millions of people over the internet. It is also known as scribing.
&nbsp
&nbspWhiteboard illustrates drawings of characters, objects and places on screen while the audience watches along. It can be further improved and made more alluring by incorporating audio, including voice-over, sound effects, music, photos or video footage to your production. It is prepared by using whiteboard video making software like wiz Scriber.
&nbsp
&nbspWhiteboard animations work in synchronization with storyboard and a plot to carry your message, and they are highly entertaining and appealing to people who are otherwise bored with static images and mundane ad copy.
&nbsp
&nbspApplications of whiteboard animations
&nbsp
&nbsp1. To demonstrate product description: It is very useful in case of giving demonstration of products in a complicated process like medical treatment through drugs inside the body
&nbsp2. To introduce your company and its features
&nbsp3. To narrate interestingly and uniquely the success stories of your business
&nbsp4. To promote your brand through animated video advertisement
&nbsp5. To give creative presentations
&nbsp6. To prepare video resume or introduce your ideas innovatively
&nbsp7. To give comparative presentations of products and services of your company
&nbsp8. To give instructional content to the target audience
&nbsp9. To present tutorials
&nbsp10. To create whiteboard animations for employee training and grooming in many corporate organizations
&nbsp11. To make students especially the kids learn their books in animated and interesting way
&nbsp12. It is best used in complicated industry process explanations and demonstration of services like automobile industry, construction sites etc.